It is imperative that you use social media to drive traffic back to your website or your blog during the consideration phase. Your website is a hub for all information related to your brand and your offerings. Your brand's website and blog can even provide e-books and white papers to learn more.
How to Track Great Social Media Campaign Strategy [with examples]
We'll cover what you need to do to create a social campaign that can compete, how you can track the impact of that campaign to look like a hero internally, and finish with some quick tips to jumpstart your strategy.
Newsletters
Instead of browsing aimlessly through content, rummaging through thousands of social profiles, or running endless Google searches, an easy way to streamline research is to sign up for as many newsletters as possible.
Newsletters provide insights into the state of the industry, changes in technology, updates to social networks, and explain emerging trends and best practices. Here are a few newsletters that social media marketers should add to their resource list boost your creativity while you brainstorm:
helps you discover how to best use social media to connect with customers, drive traffic, generate awareness, and increase sales. Their newsletter shares articles, expert interviews, and reviews of the latest industry research. Social Fresh has a strong focus on the future of social marketing including future trends and inspiration for fresh social campaigns. provides information on conferences, articles, podcasts, research, and courses to help social marketers find inspiration and produce creative content. focuses on educating social media marketers by providing modern marketing tools, training, strategies, articles, online seminars, and discussion forums. Their solution-based content helps marketers identify gaps in their marketing strategies and provides resources needed to overcome problem areas. positions themselves as a brands-only membership organization for the people running social media at really big companies. They share best practices and provide actionable advice and solutions to the common challenges that come with being a social media professional.
Social Media Today is an online community and resource for professionals in marketing, social business, communication, customer experience, content marketing and digital strategy.
Social Listening Solutions
Social listening should be a priority for any marketer. It's invaluable when you're trying to create content specific to audience interest. Social listening solutions enable marketers to discover topics of interest and trending hashtags, and gain insight into brand sentiment.
During the brainstorming process, listening to your audience can help you identify their needs, which enables you to create social campaigns that meet those needs, identify the type of content they crave and engage them with your brand.
Webinars
During webinars, many businesses will live-tweet along with their users to engage them, answer questions, and keep the online conversation going. Webinars can also provide a way for us to learn, which can spark content ideas during our brainstorming sessions, as they are typically education-focused.
Webinars can provide you with actionable steps to take toward more effective social marketing. Social Media Today provides a wide variety of webinars specific to social marketers. You can register for upcoming webinars or watch from their library of on-demand webinars.
Forums
Quora is a great resource to discover topics of interest, ask questions, and engage in conversations relevant to your brand. As a brainstorming tool, forums can help social marketers build social content plans that address questions people are already asking.
Sales Teams
Our sales teams are our first points of contacts with consumers, and they can provide insight into the needs, challenges, and successes of our customers. This insight can help us generate content that addresses these needs or highlights successes.
7 inspirational social media campaigns
Getty Museum Challenge
What Getty Museum did: In the height of the lockdown, Los Angeles' Getty Museum challenged the public to share homespun recreations of its various artworks… and the public responded in droves with homages both hilarious and impressive.
As images came in, Getty shared them side-by-side with the original artwork. The posts showcased Getty's warmth and sense of humor, but also quietly showcased the impressive variety and scope of its collection. During a time where there wasn't much to report on social, user-generated content kept the content calendar full (not to mention it cost nothing and made fans happy in the process).
Why it worked: The barrier to participate was dead simple. "Choose your favorite artwork, find three things lying around your house, recreate the artwork with those items. And share with us," tweeted the official Getty Museum account. There was no prize, no time limit, no parameters: this was just a playful challenge to art fans that ultimately cultivated joy and community in a dark time.
What you can learn: Creativity comes from constraint. By offering followers a simple-yet-structured way to showcase their fandom (and stave off quarantine boredom), Getty sparked inspiration for thousands of pieces of content. What kind of IP or inspiration can you offer up your followers to play around with or riff on?
Save The Music's #musicsaves
What Save the Music did: Save the Music Foundation is an American non-profit that provides public school kids in need with music education. Its #musicsaves campaign was intended to raise awareness of the importance and impact music can have on mental health, as well as draw attention to the foundation itself.
Partnering with TikTok, Save the Music got a #musicsaves hashtag on the Featured Hashtags list, which helped encourage people to use the tag to share their own musical stories. On an app like TikTok, where music is king, the audience was well positioned to soak up the emotional tales of the power of song (and usually some hot tracks, too). The campaign garnered 229 million views.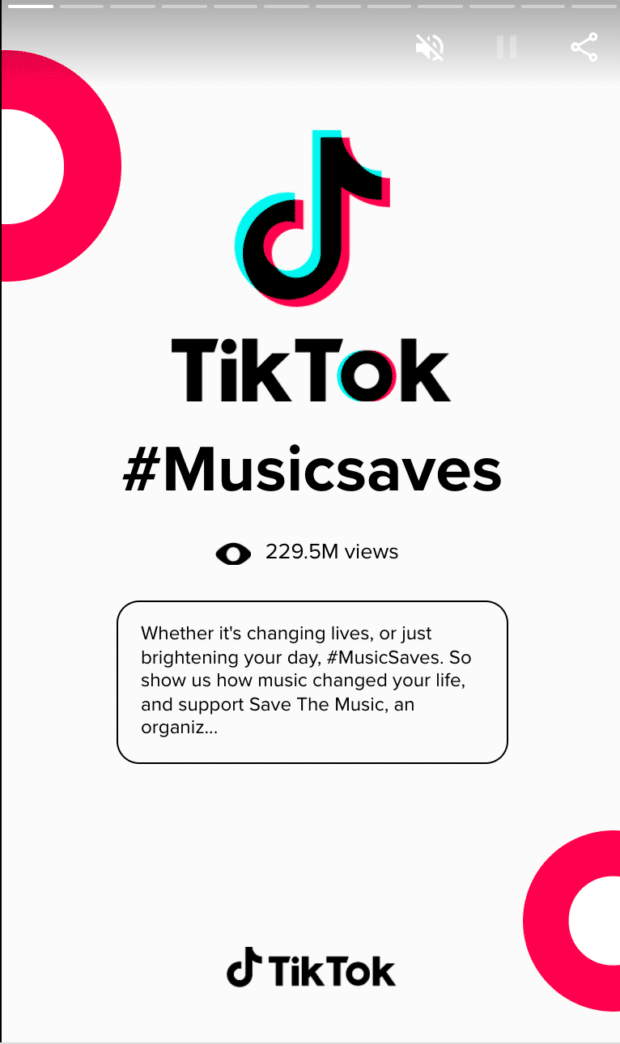 Why it worked: There are two unshakable truths that combine here: people love talking about themselves, and personal stories are a powerful force in fundraising in general. Opening up the ability for anyone on TikTok to share how music had impacted them allowed Save the Music to spread its message even further than it might with a more formal campaign.
What you can learn: Uplifting personal stories don't just give your brand something to post about: they build a feel-good relationship with your followers and fan bases. The #musicsaves campaign allowed anyone to position themselves as an ambassador for a worthy cause. If your brand is a non-profit or charity, or even if you have a values-based marketing strategy or social-impact goals, invite your followers to get involved in advocacy, too.
Cadbury's #justaskanAus
What Cadbury did: The Cadbury UK team built a street-level billboard in London with a seat for an Australian person to sit on in front of the text, "It's amazing, just ask this Aussie." But while this ad campaign was obviously a fun physical stunt for passersby to experience, the social media layer of the campaign was important, too: followers could ask questions of the Aussie using the Questions sticker, via Instagram Stories.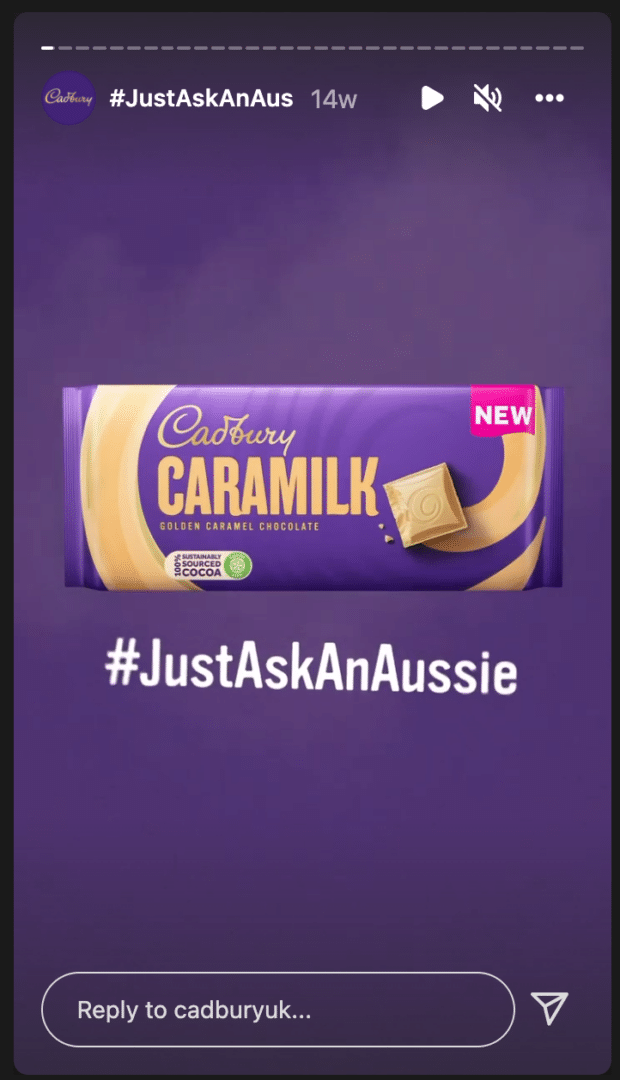 Why it worked: Even for those who couldn't harass this dangling chocolate fan in person, Stories still offered a way to participate and get in on the gag, and the videos of the Aussie responding created even more content for the Cadbury UK account to share.
What you can learn: There's something kind of magical about blending the world of social media with real-world events, like the platform is a window into another world. What stunt or special event could act as a content generator for your brand?
Athlete's Foot's Katch the Kayanos campaign
What did Athlete's Foot do? The global retailer (which specializes in athletic shoes) went beyond a typical shoe giveaway to create a virtual race on TikTok. Teaming up with creator Sarah Magusara, Athlete's Foot created a series of targeted ads.
Personalized data
It's no secret that companies are collecting data on their users to improve their experience and products better. The more you engage with the app, the more they know about you. And while most companies keep the information to serve you a personalized feed, others go a step further to give you a year-end summary.
Every user's Wrapped summary is accompanied by graphics that are instantly shareable and social media-ready. But Spotify's campaign didn't start or end there. The Wrapped experience had quizzes, slides, videos and personalized playlists. Having colorful graphics to share, especially if any of the data was a surprise, enhanced the marketing campaign and got their users engaged.
Sources:
https://sproutsocial.com/social-media-campaigns/
https://blog.hootsuite.com/social-media-campaign-strategy/
https://sproutsocial.com/insights/social-media-marketing-examples/
Social media campaigns
Unlike marketing campaigns that can apply to any number or variety of channels, social media marketing campaigns are specific to social media. Effective social media marketing takes into account each platform's unique audience, features, and functions and builds the campaign around them.
5 Successful Social Media Campaigns You Can Learn From
The bad news? Review Trackers reports that 94 percent of customers say a bad review on social media has convinced them to avoid a business. While Pew Research found that 65% of people said social media was having a negative impact on society, only 10% believed it had a positive impact.
As a business owner, it's clear that using social media to your advantage is critical, but do you know how to maximize the impact of your social media marketing campaigns? Do you know what your goals should be and how to achieve them?
We've done some research to showcase five successful campaigns that made waves across social media platforms. So whether your business is new to social media marketing, or a seasoned veteran, these campaigns can give you insight into running campaigns that consumers respond to.
Social Media Campaign Examples
Improve Brand Awareness
Your business can improve brand awareness through social media by posting your campaigns on a variety of platforms. You can also use specific hashtags and provide followers with incentives for sharing your content and tagging their friends.
Improving your brand awareness through social doesn't need to take a lot of time either. In fact, 91% of marketers said they noticed an increase in their brand visibility by only spending a few hours per week on social media. Once you have a plan for your campaign, you will be able to map out exactly where and when it should be posted to keep things efficient.
A great example of using social media marketing to raise brand awareness is Apple's Shot On iPhone campaign. Apple's impressive iPhone cameras allow their 90 million+ users to take pictures that look like they were taken with professional cameras.
Taking beautiful pictures has also become increasingly important for social media users over the years, especially with photo-focused platforms such as Instagram. Apple decided to mesh these ideas together and launch the Shot On iPhone campaign which features iPhone photos taken by customers.
Users take pictures with their iPhones, post them to social (typically on Instagram in this case), and use the campaign's hashtag, #shotoniphone, which has been tagged in over 4.3 million posts thus far. Apple shares select photos on their Instagram page to their 6.8 million followers and gives participants a chance to have their photo on a billboard.
Apple started the campaign, but iPhone users are the people doing the hard work. Through this campaign, the company builds a feed of the most beautiful and unique pictures that also serve as a way to improve brand awareness and market the iPhone camera feature.
Connect With Your Audience
Connecting with your audience is important in all types of marketing. In a world with growing distractions and diminishing patience, effective marketing tactics are more important than ever. The good news is that social media has made it easier to connect with potential customers anywhere around the world.
When working on a social media marketing campaign, you want to connect with your audience both on a surface level — through a follow, comment, or a "like" — and on a deeper level — through a relatable post that gets them feeling a certain way about your brand or products.
Coca-Cola's Share a Coke social media campaign successfully connects the company with their audience on a deeper level. By selling bottles of Coke with people's names on them, Coca-Cola personalizes the buying experience which gets customers excited about purchasing and sharing the bottles.
Whether it's their name or the name of a family member, friend, or co-worker, customers feel a connection to these bottles of Coke. Some of the bottles even have stickers on them that customers can peel off and wear as a name tag or give to someone else.
Coca-Cola made the campaign even more relatable by creating labels with multiple different spellings of names and including less-common names. Customers can also personalize their bottle on the company's website for $5. The company found a way to engage with everyone through this campaign.
Coca-Cola also promoted a hashtag, #shareacoke, so social media users can share their pictures and videos with friends and followers. Since the campaign has gone viral, the hashtag has been used on millions of Twitter and Instagram posts. And for those who want to share a Coke, or post a picture about their own experience, there are links to more information about the campaign in the bio section of Coca-Cola's social profiles.
The Share a Coke campaign gets people excited about a personalized bottle of Coke and makes customers feel connected to the brand on a deeper level. In turn, millions have been motivated to share pictures, videos, and stories on social media about their experiences buying and sharing a Coke.
Increase Website Traffic
Social media is a great way to boost website traffic. Simply putting your website in your profile bio helps guide users to your site where they can learn more about your company or a specific product. Customers have little patience and lose interest quickly. By including the URL in your bio, you will avoid any confusion and keep things simple for your potential customers.
Your campaign team can also respond to followers on social with URLs to specific landing pages on your website. Adding links to your website as part of a natural conversation or organic post is a great way to show them you are listening and boost website traffic.
Lastly, you can just add a website or landing page URL to your actual post on social. You will increase website traffic by providing followers with links to the resources they need to answer their questions and concerns on their own.
Top Social Media Campaigns of 2021
1. American Eagle and Snapchat
Engagement was the name of the game in American Eagle's back-to-school shopping campaign. Using Snapchat's augmented reality technology, the brand created a digital line of their styles that users could grab to dress up their Bitmoji characters. This isn't the first time the casual clothier has teamed up with Snapchat; its winter holiday campaign last year brought in 5000 million in revenue and contributed to 800 billion in Q1 2021 sales.
The visual content trends spurred by Snapchat and AR technologies have a strong appeal to digital natives. Investing in interactive digital content can be an effective way to keep users engaged with your brand for longer periods, give them something new and different to expect, and create experiences that other brands are not.
2. Chick-Fil-A's #TheLittleThings
Launched in 2018, Chick-Fil-A's The Little Things campaign is a collection of stories from real customers and employees. They focus on the small nuances of great experiences and serve as reminders that life's little moments can make the biggest impacts.
The campaign has been alive and well in 2021, with the story of a Chick-Fil-A regular using her 50,000 app points to feed a homeless shelter. She and an employee of her local store were featured on the brand's social media channels to share the story, dubbed " Lanika's Idea," and create a positive image of the restaurant.
3. Vienna Tourist Board on OnlyFans
An unlikely place for social media success from a brand on a world stage, Vienna Tourist Board shocked the marketing world when it turned to OnlyFans for a recent promotion. A city rich in art, the brand grew tired of Instagram and TikTok removing some of its posts of the city's most prestigious artwork because they broke the nudity guidelines.
Instead, the brand found a channel that embraced the human form so they could continue to highlight the city's artists, famous creations, and most beloved museums. The brand's OnlyFans account features a paywall for content that is rated "Adult 18+". The move encourages interested travelers to take a sneak peek at the city's art along with raising awareness about the general censorship of fine art.
4. YouTube's Shorter Side of YouTube Campaign
While TikTok is raking it in with its short-form video content, YouTube sought a way to show its users that it's still king when it comes to digital video. The brand launched its "Shorter Side of YouTube" to compete with TikTok and attract its core demographic.
5. NatGeo's #ThinkBeforeYouLike
Many social media fans wouldn't think twice about clicking Like on a cute picture of cuddly-looking cheetahs. But National Geographic believes that users should think twice before engaging with anything, even innocent photos that appear safe on the surface.
Its recent #ThinkBeforeYouLike hashtag campaign was designed to educate users on the ongoing cheetah exploitation and smuggling ring. In the campaign, the brand warns users against clicking Like on photos of people with their "pet" cheetah cubs, claiming that doing so only encourages the trafficking behaviors they're working against.
6. TikTok's Re: Make Campaign
A memorable social media marketing strategy doesn't always hinge on originality. If you can take a common theme or idea and put a new spin on it, you can make strong connections with your audience because you're building on something that's familiar. TikTok's ReMake campaign is a perfect example of this.
7. McDonald's #McSpicy Debate
Will McDonald's new spicy chicken sandwich leave you sweating bullets? Does it have a little kick, or will it get you to spill all your secrets? That's the focus of the #McSpicy debate, where users could share their thoughts on the spice factor of McD's new chicken sandwich. Spicy food is always a bit of a heated discussion, one where fans have strong opinions over whether a dish meets their expectations of spice level.
8. Spotify Only You Campaign
Spotify has prided itself on helping users discover new music and artists that speak to them. Its recent Only You campaign builds on this sentiment by creating personalized Audio Birth Charts and summarizing users' listening habits. This is a great exercise in personalization because every chart is unique to the user. And just for fun, the experience also included the chance to build a "dream dinner party" with your favorite artists.
9. Dove's #NoDigitalDistortion
One of the benefits of social media campaigns is the ability to connect audiences that share something in common but would otherwise have no physical connection with each other. Powerful campaigns like Dove's #NoDigitalDistortion do this beautifully by illustrating experiences that millions of women have shared but didn't realize others were listening.
Sources:
https://digitalmarketinginstitute.com/blog/5-successful-social-media-campaigns-you-can-learn-from
https://blog.hubspot.com/marketing/social-media-campaigns
https://www.meltwater.com/en/blog/top-social-media-campaigns
Social media campaigns
Social media marketing is a form of digital marketing that leverages the power of popular social media networks to achieve your marketing and branding goals. But it's not just about creating business accounts and posting when you feel like it. Social media marketing requires an evolving strategy with measurable goals and includes: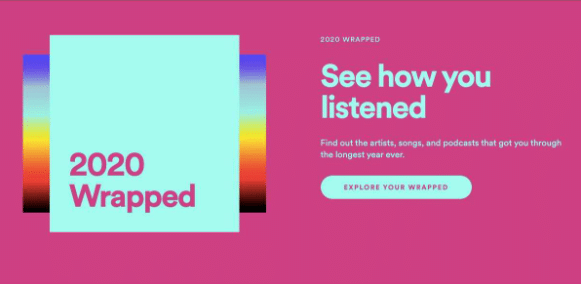 10 Most Effective Social Media Campaigns of All Time
A successful social media campaign isn't easily defined. Usually, high rates of engagement and "going viral" are good indications of an effective social media marketing campaign. However, the most memorable and award-winning social media campaigns are set apart because of their creativity and innovation.
When executed well, these types of digital marketing campaigns can connect with channel users on a personal level and help drive signficant change! Let's explore some effective social media campaign examples that pushed boundaries and reinvented the process.
1. Disney #ShareYourEars Campaign
At the end of 2018, Disney wrapped up its third consecutive year partnering with Make-A-Wish for their #ShareYourEars social media campaign. For every photo of a person wearing Mickey Mouse ears with the hashtag #ShareYourEars, Disney pledged to donate $5 per post with a maximum of 800 million matched.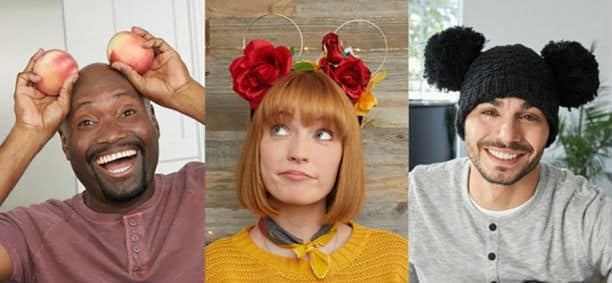 Why It Worked: Back in 1981, the first official Wish was granted to Frank "Bopsy" Salazar and part of his wish was to visit Disneyland. In fact, a third of all Make-A-Wish requests are granted by Disney. This modern campaign reinforces their partnership and is a sweet reference to the roots of their history together.
This successful social marketing campaign was a fun, visual, and easy way to create goodwill. Disney spurred this on by doubling the amount of money donated- bringing it to a total of $3 million raised. Anyone could take a picture and post it to Twitter, Facebook, and Instagram easily.
By utilizing people's desire to raise money for a good cause and giving them a set incentive, participants created a bevy of user-generated content and was a massive success in bringing attention to the campaign.

2. Taco Bell Jewelry Influencer Campaign
Back in 2013 when influencer marketing wasn't as ubiquitous as it is now, Taco Bell was ahead of the curve by sending jewelry and handwritten notes to minor models and actresses known for their internet presence. They also included a gift card and an invitation to visit their test kitchens.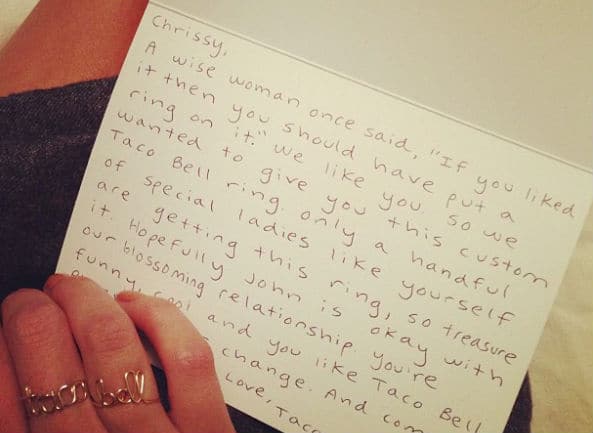 Why It Worked: By using tongue-in-cheek humor and a set of "Instagrammable" objects, Taco Bell spread the word through the influencing power of Internet-famous females. Recipients included Chrissy Teigen, Jessica Lu, Acacia Brinley, Leah Cecil (Miss California 2012), Kristen Storms, and Alexa Losey. The personalized letters to each woman crafted a cheeky persona to Taco Bell's brand.
The main conversations surrounding this stunt were sparked by the highly coveted gold rings (that spelled out "Taco Bell" in cursive). These rings ended up being so popular Taco Bell began selling them in limited quantities. It's also birthed countless copycats on sites like Etsy, making this campaign a lasting success.
3. Always #LikeAGirl Campaign
Always (the feminine hygiene product brand) launched the #LikeAGirl campaign with a video that challenged female stereotypes with the purpose of empowering young girls. The film showcased how the phrase "like a girl" has come to have a negative or weak connotation. They showed confident young girls redefining the phrase into a meaningful and powerful statement instead of an insult.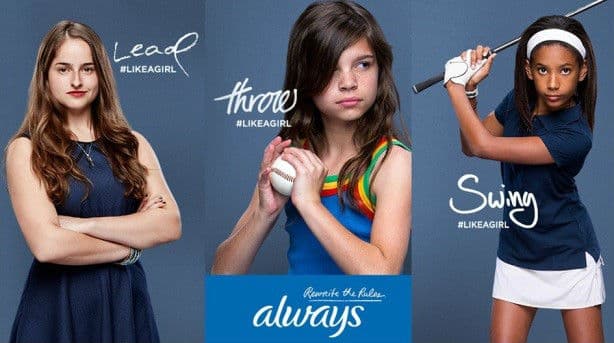 Why It Worked: The video encouraged viewers to participate in what it meant to do things like a girl. Social media was flooded with anecdotes, personal achievements, and encouragement to adolescent girls.
The video has amassed over 66 million views on YouTube and has won several awards. According to Design and Art Direction, 76% of viewers stated they no longer saw the phrase with a negative connotation. 2 out of 3 men who watched the short film said "they'd now think twice before using "like a girl" as an insult.
4. Spotify Wrapped
In 2017, Spotify unveiled a quirky-looking site that gave personalized statistics garnered from your listening data. Giving a much-needed update to their Year in Music campaign, Spotify used the same visuals as their data-driven billboards.
Social media marketing statistics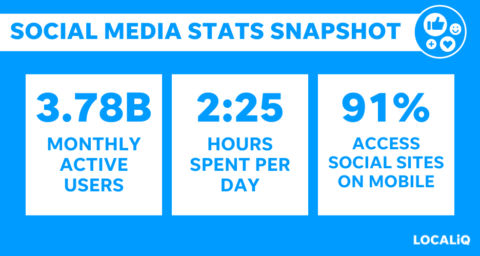 Knowledge of your audience: What platforms they use, when they go on them and why, what content they like, who else they're following, and more.
Brand identity: What is the message you want to convey to your audience? How do you want them to feel when viewing your content?
Content strategy: While there is a level of spontaneity on social, you'll need a structured content strategy to be able to have a consistent voice and produce quality content regularly.
Analytics: Quantifiable insights will inform your strategy, including who you're reaching, the right content to share, the best times to post, and more.
Regular activity: Social media is a real-time platform. If you want to use it to grow your business, you need to post regularly, stay on top of engagements with your business, engage back, keep up with trends, and maintain accurate profiles.
Inbound approach: Don't use social media to pitch your business. Focus on adding value through useful and interesting content and building up those around you. This, in turn, will organically promote your business and others will promote it for you.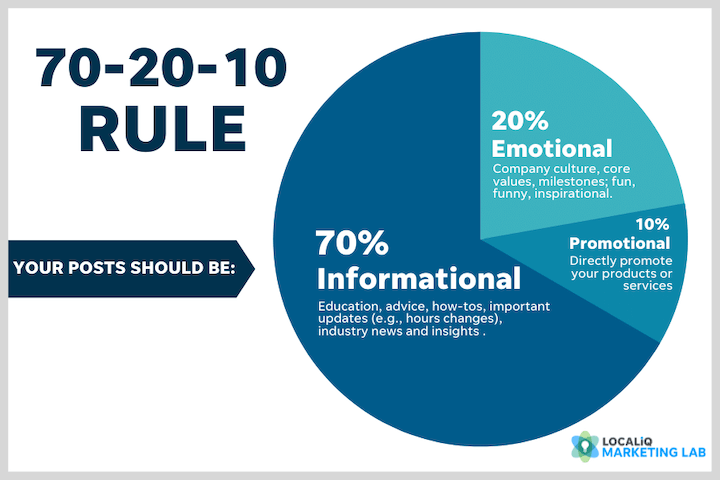 21 best social marketing campaigns examples, and why they succeeded
1. Wendy's tweets
Wendy's experienced a meteoric rise in 2017 which has continued unabated, and it's easy to see why. Much of the love, appreciation, and attention this brand has received was because of its witty one-liners, sharp comebacks, and savage roasts on Twitter.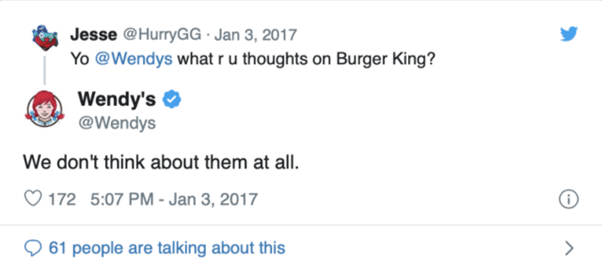 Wendy's Twitter strategy succeeds because of the team's unique sense of humor and perfect comedic timing, plus the fact that they are consistently engaging on the platform. While Wendy's takes to roasting competitors on a regular basis, it is never done in a mean-spirited or crass way.
Wendy's is a great example of how to leverage Twitter if humor, people skills, and a consistent brand presence are what you can bring to the table in your social media campaigns. Wendy's strategy has led to a current Twitter following of 3.8 million users.
2. IHOP "changes its name" to IHOb
When the International House of Pancakes (IHOP) wanted people to know they had burgers on the menu too, they went about their social media strategy a little differently. They resorted to "changing their name" to IHOb, a move that split their fans into two camps of people who were in support of the name change and the rest who weren't.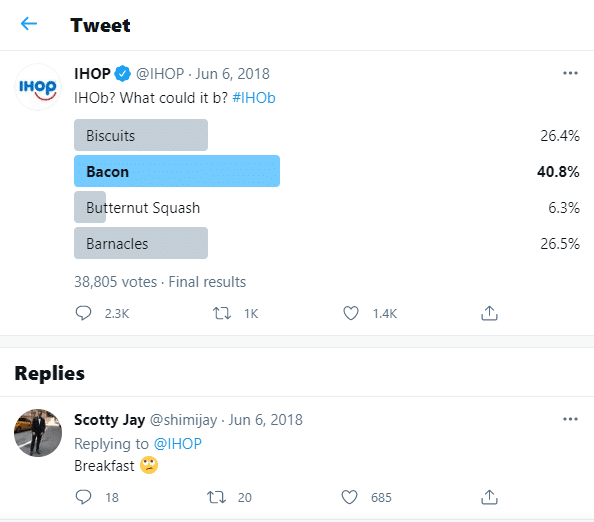 Nevertheless, the campaign on Twitter, which centered around fans guessing what the 'b' stood for in IHOb (i.e. burgers), produced phenomenal results. By the time the campaign had ended, IHOb achieved "42.5 billion media impressions, 28,000+ media stories, and $113 million in earned media." Burger sales also quadrupled.
It just goes to show that attracting attention the right way, engagement through inviting users to guess what the 'b' stood for, and the resulting social discussions are fail-safe methods to run effective social marketing campaigns.
3. OREO 'Dunk in the dark' on Twitter
OREO's 'Dunk in the dark' tweet is a thrilling example of clever and spontaneous marketing that was able to capture attention, and elevate brand awareness, all in one breath. During the Super Bowl in 2013, the Superdome in New Orleans experienced a power outage that left fans literally in the dark. Meanwhile, in the OREO marketing camp, the team saw a golden opportunity and almost immediately released this tweet: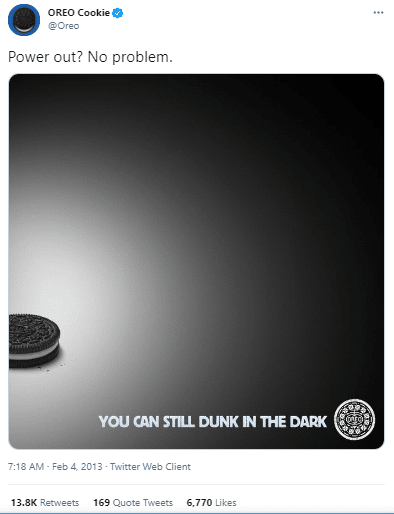 The tweet was shared over 13.8K times, resulting in phenomenal brand reach. Great marketing is timeless, and this tweet and the OREO brand, in association, get talked about even today. It's also an example of why speed is of the essence in marketing.
4. ALS Ice Bucket Challenge
In 2014, the ALS Association, a non-profit organization dedicated to fighting the incidence of ALS (amyotrophic lateral sclerosis, a progressive neurodegenerative disease also called Lou Gehrig's disease) came up with the Ice Bucket Challenge to create awareness about the disease. The challenge in itself was pretty simple.
It required participants to either pour a bucket of ice water over their heads or have someone else pour it over them and share a video of it. Each participant was asked to nominate others. Then, the nominated participants had to create a video of them completing the challenge within 24 hours or provide a donation to the ALS Association instead.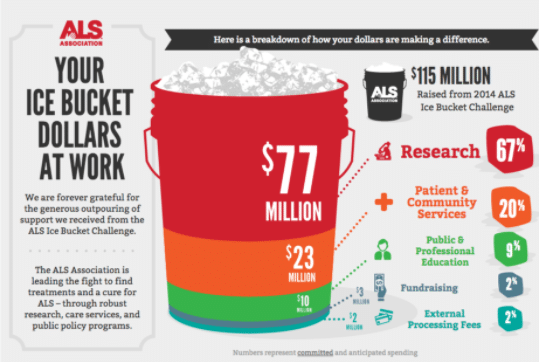 The Ice Bucket Challenge enjoyed tremendous success around the world through multiple social media channels. According to Wikipedia, the challenge "raised over $220M worldwide. Its combination of competitiveness, social media pressure, online narcissism, and low barriers to entry led to more than 2.4 million tagged videos circulating on Facebook."
5. Chicken sandwich battle: Popeye's takes on Chick-fil-A
When Popeye's Louisiana Kitchen launched their first chicken sandwich on Twitter to rival Chick-fil-A's, they were simply unable to meet the demand. The sandwiches were getting sold out, and fast. Popeye's went on a temporary hiatus with the sandwiches but promised they would come back.
It was around this time that Chick-fil-A came out with a tweet that seemed to be taking a jab at Popeye's. Popeye's responded and from then on came the Twitter wars, none of which caused any dips in the popularity of Popeye's chicken sandwiches.
Sources:
https://www.marion.com/10-most-effective-social-media-campaigns-of-all-time/
https://www.wordstream.com/social-media-marketing
https://referralrock.com/blog/social-marketing-campaigns/