Communicate Effectively
Effective communication (both verbal and textual) is an essential tool for a successful career. If you are able to put your thoughts and opinion across in an effective manner, you will get the most attention among your bosses and managers.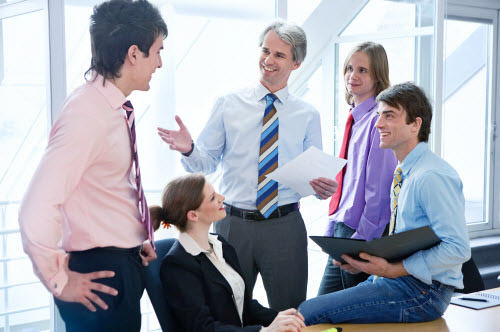 Communicating with a better style is half the work done. Ask politely. State clearly. Say friendly. Share your opinion carefully. That said, you have to be emotionally stable, as bosses only look for the person who communicates effectively while keeping his emotion stable in any situation.
What Are Best Practices in Conducting an Internal Job Search?
Treat it as you would any other job search. Just because you're an internal candidate doesn't mean you get special treatment or that you're guaranteed the role. You'll still have to position yourself as an ideal candidate and present current and professional materials, including a resume that makes it clear why you're a great fit.
In fact, some hiring managers have higher expectations for internal candidates, since you've already had exposure to the company's goals, clients, and strategies. So in your application and in interviews, be prepared to discuss both broad company goals and more targeted department-specific goals.
Also, this may sound obvious, but before you go for it, make sure you actually want the job. You have the benefit of (most likely) knowing the hiring manager and the team with whom you'd be working. Is it a team you want to be on, or where you could be successful?
Most importantly, consider your reasons for wanting to leave your current team—are you genuinely excited by the new opportunity, are you just bored, or are you dissatisfied with your current manager? Those aren't great reasons for initiating an internal move, so be honest with yourself about your motives.
When Should I Tell My Manager That I Want To Consider a New Job Opportunity?
It's always a good idea to keep your current manager in the loop in a situation like this. In a perfect world, the two of you have already had conversations about your career and professional goals, so your manager won't be surprised that you're interested in changing jobs.
So if you have a good relationship with your manager, and you think they'll support you, then by all means talk to them sooner rather than later—maybe even as soon as you see a job you'd like to apply for.
It's also good to talk to your boss if you're going to contact the hiring manager prior to applying (see below). You don't want to blindside them and have them find out through the grapevine. And when you do speak with the hiring manager, it's nice to be able to count on your current manager's support.
But if you have a not-so-great relationship with your manager, then you may want to wait until you're further along in the process. You might even be able to get away with telling them after you have an offer, depending on your company structure and what the policies are on internal transfers. But I advise telling them when you get to the finalist stage at the latest.
Letter Example Requesting a Transfer
If you need to apply for an open position as part of the transfer process, you may be able to do so online. Most employers list open jobs on their company website. You may be able to sign up for email alerts that will notify you of new job openings.
In some cases, employees interested in a transfer are required to apply for new jobs within the company. Some employers accept applications from internal applicants before opening up applications to external candidates. If that's the case, it means that you'll have an advantage during the hiring process. However, you may still need to apply and interview for the job, especially if the new job is in a different department or at a different location.
Some large companies may have a streamlined process for employees seeking to relocate and may provide financial relocation assistance for hard-to-fill positions. Check your company's career website or check with your human resources department for instructions on the application process for transferring.
Tips for Transferring Jobs at Your Company
Whether you are relocating or considering a change from one functional area to another, it often can be done within the same firm. That's because you will bring valuable company and industry knowledge with you that an outsider wouldn't possess. An added element of your appeal can be your reputation as a hardworking and competent employee. It can remove some of the hiring uncertainty involved with bringing in a new worker from the outside.
Consider discussing with your manager. It may make sense to discuss the possibility of making an internal move directly with your current manager, so they don't think that you are sneaking around behind their back. However, there may be situations where your manager's personality will make this difficult. If that's the case, you might need to work with other contacts such as prospective managers, human resources staff or your manager's supervisor. Considerable risk of backlash can accompany not telling your supervisor, and it will be hard to turn back once you have embarked on that course of action. Therefore, carefully weigh your options prior to applying for a transfer.
Make sure that your performance and attitude continue to be excellent once you have a made a decision to move on from your current job. Your relationship with your current manager and their opinion about your character, productivity, and work habits will carry considerable weight as you apply for new positions. Companies are typically reluctant to let a star employee leave the organization, but won't hesitate to send a marginal worker packing if she seems discontent with her current position.
If you are targeting other departments at your firm, look for opportunities to interact with staff in that department. Volunteer for projects which will enable you to showcase your talents and work ethic to coworkers and managers in departments of interest. Seek out committee or task force assignments for company-wide initiatives that might raise your visibility and bring you into contact with prospective managers.
Endeavor to develop a mentor-protégé relationship with your current manager. Seek her out for advice and engage her in discussions about your professional and career development. A manager who is invested in your career is more likely to support a transition out of your department.
Be sure that you are just as careful about presenting your qualifications to hiring managers when applying for a job within the company as you would be when applying for an external job. Don't assume that internal staff members know about all your strengths and accomplishments in great detail. Itemize and document your credentials to make sure they understand that you are very well suited to the job. Also, be sure to have references within the company who can attest to your skills.
Resource:
https://www.hongkiat.com/blog/survive-office-moving-up-corporate-ladder/
https://www.themuse.com/advice/transfer-job-within-same-company
https://www.thebalancecareers.com/how-to-transfer-jobs-at-your-company-2060645